Car Hire / Car Rental with a Driver in Entebbe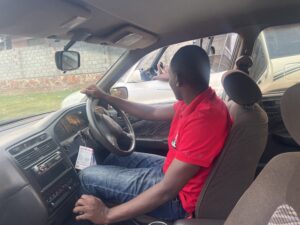 Car hire with a driver is a safe, comfortable, convenient, and cost-effective way to explore Entebbe and Uganda generally. Our drivers start from $30 per day, and whether you are a tourist, a business traveler, or a local resident, hiring a driver can help you make the most of your trip. With a professional driver taking the wheel, you can sit back and relax while they take care of the driving, navigation, and logistics. Below we discuss the why, how and when questions regarding hiring a driver.
Here are some of the benefits of car hire with a driver in Entebbe:
Safety: You can be sure that you and your passengers are in safe hands with a professional driver behind the wheel. Drivers play an important role in helping avoid potential dangers on the road because, they are trained to handle a variety of driving conditions.
Comfort: You can choose from a range of vehicles to suit your needs and preferences. This is a guarantee of comfort and luxurious way to travel.
Convenience: Car hire with a driver in and around Entebbe is a convenient option for you to explore Entebbe and its environs without the hassle of driving yourself. With a driver, you can focus on enjoying the scenery, taking photos, or simply relaxing, while they handle the driving and logistics.
Time-Saving: Hiring a driver can also help you save time, as he will take you directly to your destination without the need for you to navigate the roads or find parking because he knows exactly where to park. This will help make your tight schedule as smooth as you would have wished.
Local Knowledge: All our drivers have extensive knowledge of the local area, including the best routes, tourist attractions, and hidden gems that you might not otherwise discover in case you are driving yourself. They can also offer valuable insights into the local culture, customs, and traditions.
Cost-Effective: While car hire with a driver may seem like an expensive option, it can actually be cost-effective in the long run. With a driver, you can save money by avoiding traffic tickets, fines, and other expenses that can result from driving in an unfamiliar area. This also saves you from the costs that would result as a result of an accident since he knows the country well to save you from the unforeseen costs.
How to Hire a Driver in Entebbe
There are several options available to you in case you are interested in hiring a driver. Here are some easy steps to follow:
Contact us: In case you are interested in hiring a driver, contact us on +256772095189 and inquire about the services. We shall answer any questions that you may have regarding rates or availability of our drivers.
Discuss your needs: Let us know your specific needs, such as the duration of your trip, the places you want to visit, and the type of vehicle you prefer and we shall offer you the best driver option.
Confirm the details: After discussing your needs and we agree, then you would need to confirm your reservation with us.
Meet your driver: On the day of your trip, your driver will arrive at the agreed location at the agreed time. Normally, this is before your time of arrival. Once you meet, you will go through the details of your trip in person and confirm that all is in order with regards to what you booked and confirmed.
Enjoy your trip: After all is in order, your final requirement would be to enter the car and enjoy your trip with our professional driver. The driver will see to it that you get to all your destinations comfortably and more importantly safe.
When to Hire a Driver in Entebbe
Below we discuss the different scenarios where it is a very good idea to hire a driver in Entebbe or Uganda generally:
Airport Transfers: The driver will meet you at the airport at the arrivals area with your name sign, help you with your luggage into the car, and take you directly to your hotel. This is ideal in case you are arriving in Entebbe for the first time or you have been here before and prefer a hassle free way to get to your hotel.
Business Meetings: In case you are visiting Entebbe or Kampala for business, hiring a driver can help you arrive at your meetings on time. The driver can navigate the city's traffic, advice on the best times to start the trips, and find the best routes to your destinations.
Tourist Attractions: Hiring a driver is a great way to explore the attractions in Uganda because, the driver has the knowledge of the popular tourist spots, as well as other locations that you would otherwise not have managed to explore on your own.
Safety Concerns: All our drivers are familiar with the road conditions in Entebbe, Kampala and Uganda as a whole, hence, you will have a peace of mind once you hire one of our drivers to take you around.